It's been awhile since I've written about our Meal Planning for Newbies plan for 2014.  And it's not like me to post on a Sunday.  But, Jon starts grad school tomorrow, and the main reason I started our Meal Planning journey this past January was to give myself time to get used to having it become a part of our routine.  And, to figure out the kinks – fix what doesn't work, and improve on what does.
Well, meal planning, when you DON'T do it, DOESN'T make life easier.  In fact, when I was working on my #Powersheets, I added "meal planning (when done) to ease my work week, cut down on multiple grocery stops" under What Worked for 2013.  The key there is when done.  I've not been diligent with it, but I need to be now. To save my sanity during the week as Jon will be gone two nights a week and I'll have dinner/cleanup/bathtime/bedtime/lunchmaking to do by myself. And I don't want to be scrambling at 4:45 trying to figure out what to do.
So today, after we got home from church, I got to work making my meal plan for the week, as well as grocery list. In fact, to help make my life easier around the grocery store, I should probably stock up on these Notepads from Brittany Garner Design.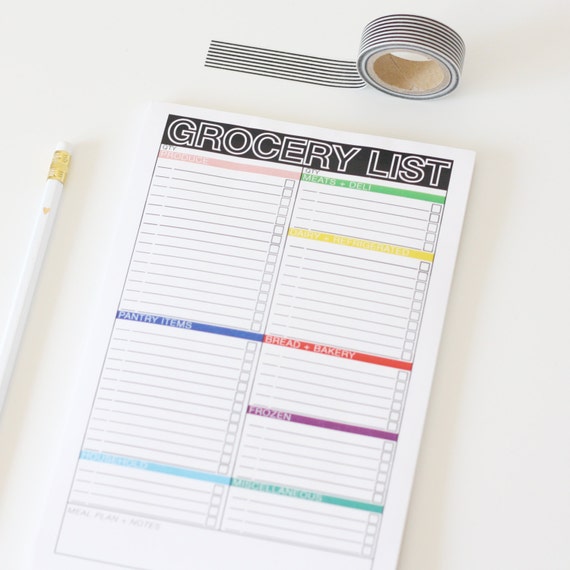 (Ps she's a sweetheart, really talented, and actually designed our logo for the SoCal Lady Bloggers.  She's also about to have baby #2 so if you order, please note her production/shipping times are a bit longer than normal.)
Because I know what does work, and what doesn't, for meal planning in our house – I know I cannot cook 7 days a week.  Mixed in we have 1 night of leftovers, 1 night of going out, and 1 night of easy dinner (burgers, hot dogs, ya know – the healthy meals. lol).  So here is our lineup for the week:
Sunday: Chipotle Chicken Salad
Monday: Fried Yakisoba Noodles
Tuesday: Cowboy Casserole
Wednesday: leftovers
Thursday: Pork Tacos
Friday: Eat Out/Bring Home (ya know, depending how late Jon is at work, and how the kids' temperament is that day)
Saturday: Burgers
Sunday – I'm off the hook. BBQ party at someone else's house!!!
I've got most of those pinned on my Recipe board on Pinterest (feel free to peruse & also follow me!)
Oh and feel free to leave a link to a favorite dish in the comments so I can add some more tasty meals to our lineup!