Last year was a crazy time of year and I didn't have any time to do organized family photos.  But we had a great friend-ographer (meaning, she was a photographer that I met and now we are friends), Becca Rillo, come to capture the moments of Aubrey's first birthday. We used those images in our annual family photobooks to give to our families.   When pregnant, we had plans to do a maternity shoot but he had other plans and came slightly early and therefore the idea went to the wayside.  But I made Becca PROMISE me that if she did family shoots in the fall, she had to let me know so I could book her.  She is primarily a wedding photographer but her photos are so pretty and she was so great with the kids at the party that I really hoped she would expand for the family shoots.
And I was jumping up and down when I saw her post about them.  It was a no-brainer to book it, but the trouble was finding the time.  Naps to be coordinated, business trips, etc. But we had our day and we had it set up for shortly after naptime.
And then came the next hurdle – coordinating our outfits. YIKES!  I started seeing photos on Instagram of my friends asking for tips on who should wear what.  You want everyone to look well on a whole, but I didn't want us to be matchy-matchy.  Jon had a great new shirt from Gap – the Lived-In Wash in large gingham and it was a great starting point.  (similiar below)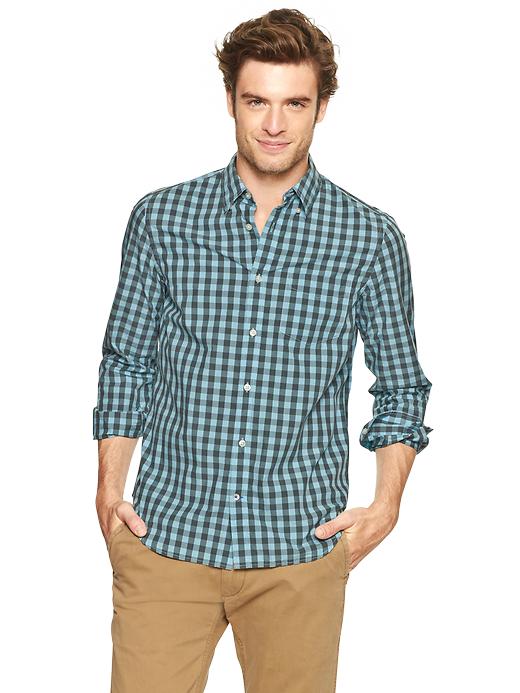 Gap Lived In Wash Gingham Shirt – blue heaven
I was trying to think, based off the blue gingham, what palette we could use for the rest of us.  I thought of doing pink (based on what Aubrey had in her closet, and me too) but I didn't want to be so literal with the guys in blue, and the girls in pink.  So I thought some more, and a dress my sister had popped up in my head.  It was a chevron print, in navy and teal.  I thought the navy would match nicely, and the teal would help, too, for launching into shades of blues and greens for everyone.
Aubrey's dress came from Old Navy.  Originally I was looking at a fall dress like this one:

Old Navy Cable Knit Sweater Dresses For Baby – Heather gray
She needed to wear boots. I wanted her to wear boots. But this didn't seem colorful enough – even with some bold tights.  I searched and searched and found a kelly green dress with navy mini polka dots.  (It's not online anymore).  I bought it a size larger so she can wear it next year too.  I also bought some navy tights (although you barely saw them in the photo cuz her dress was a bit long).  Oh and her boots. They were from Old Navy but they're not online anymore either.  They are too adorable!

Old Navy Pointelle Knit Tights For Baby – Bright nite
Last was Luke.  Since three of us had patterns, I needed him to be a neutral.  Especially since he'd be held in every photo by each of us.  He wore a navy polo shirt that also had a white "undershirt" of long sleeves beneath. Similar one from Gap below.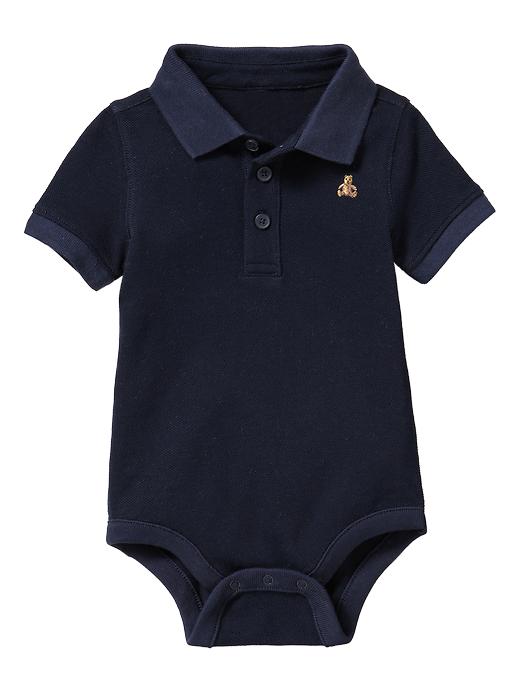 Gap Pique Polo Bodysuit – blue galaxy
So what does it look like, altogether?  See for yourself!
Did you do family photo sessions? What did you guys wear?
I can't wait to show you our holiday cards featuring more photos from Becca. I'll share soon once I send them out!
This post contains affiliate links. It doesn't cost you anything but if you purchase then a little bit comes back to me, to help me keep this site going.